null
false
Nissan Qashqai: SUV Engine & Functionality
Smart power for a changing world
Qashqai will offer two powertrains that take advantage of Nissan's Electric Vehicle expertise to create thrilling performance which reduces CO2 emissions whilst driving.
The drive for efficiency has never been more thrilling
MILD HYBRID
Efficiency with enthusiasm
Efficiency with enthusiasm
Efficiency with enthusiasm
Qashqai's new 1.3L petrol mild-hybrid powertrain features a lithium-ion battery which stores energy recovered during braking to reduce emissions whilst driving and gives smoother stop start functionality. That stored power lets the engine shut down at low speed (below 11 mph & automatic transmission only) or at a stop to enhance fuel efficiency and reduce CO2 emissions whilst driving. Aluminum has been used on the doors, bonnet & wings to reduce weight and improve performance. The mild hybrid powertrain is available with both 6-speed manual and automatic transmissions.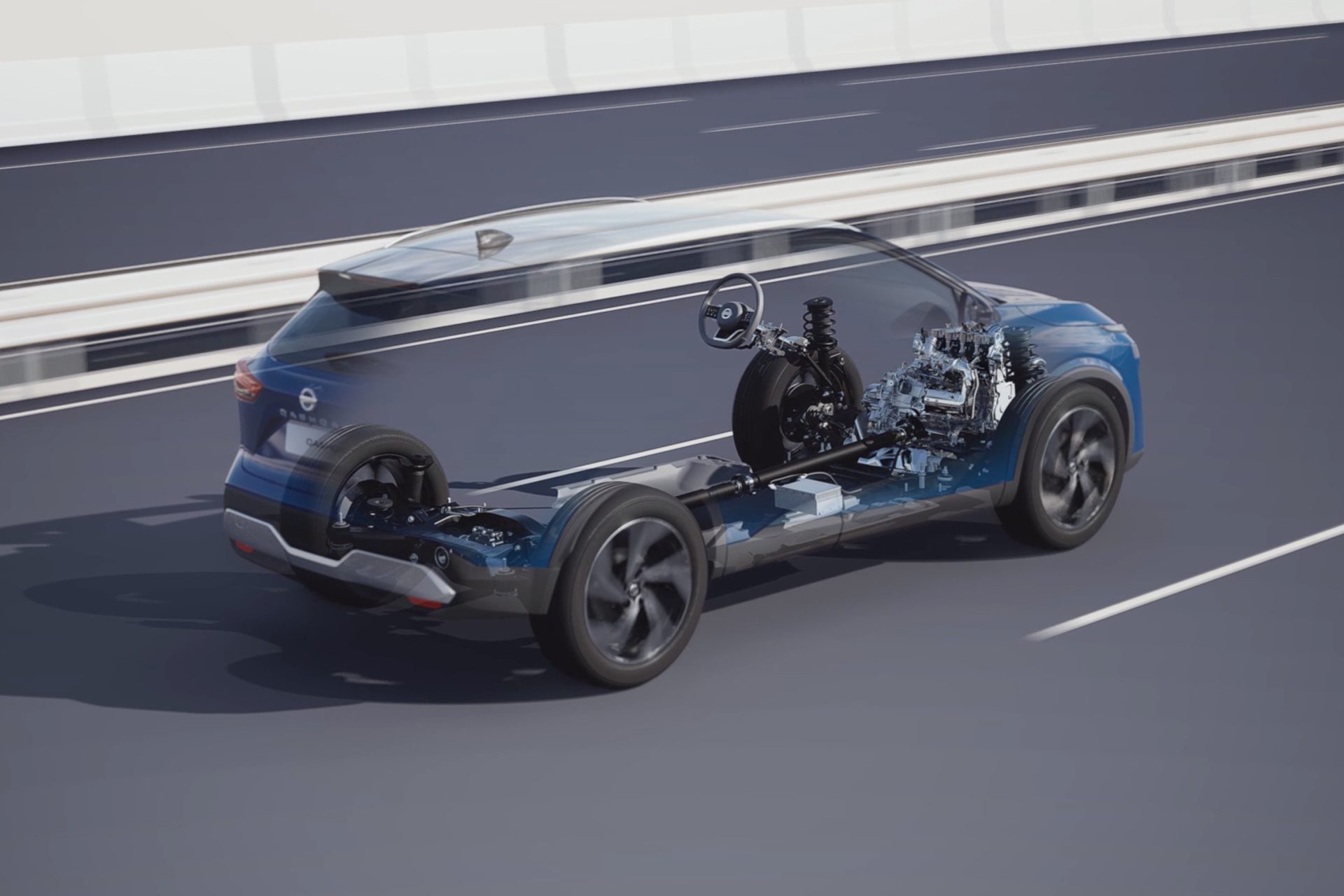 Take full control of your Qashqai with the slick shifting 6-speed manual transmission. If you prefer an automatic, Qashqai's next-generation Xtronic Automatic Transmission gives you a smooth connected drive, while steering-wheel mounted paddle shifters let you enjoy greater control.

Intelligent 4WD with 5 Modes
Qashqai's Intelligent 4WD seamlessly transfers power to help give you greater confidence and control. On challenging surfaces, power to front and rear wheels improves grip. On smooth roads, the system sends power to the front wheels for higher efficiency. And with 5 drive modes to choose from, Qashqai can help you get the most out of any situation.
Eco Mode
Eco Mode optimises engine, transmission, and other driving functions so you can drive more efficiently.

Normal Mode
Normal mode is a balance between performance and economy providing a driving experience suitable in all conditions.
Sport Mode
Sport Mode gives livelier engine response by simulating higher rpm shift points. On Xtronic transmission the sport mode enhances handling by holding rpm during cornering for added power coming out of a turn.

Snow Mode²
Snow Mode modifies accelerator mapping, and transmission tuning for less wheel spin and more grip. The Intelligent system, available on 4WD versions, also adapts by starting with all four wheels engaged.
Off-road Mode²
Tuned to handle dirt, sand or gravel. Off-Road Mode enhances traction and control by adjusting the throttle response, transmission, and Intelligent 4WD system for optimal performance.
The perfect blend of petrol engine and an electric motor
e-POWER
The joy of an electric vehicle with the convenience of an internal combustion engine

The joy of an electric vehicle with the convenience of an internal combustion engine

The joy of an electric vehicle with the convenience of an internal combustion engine

Qashqai with future e-POWER powertrain¹ drives the wheels full-time by an electric motor, providing instant acceleration along with a quiet ride. Unlike traditional hybrid cars which use the petrol engine to drive the wheels, with e-POWER powertrain the petrol engine is used to generate electricity (stored in the battery & used by the electric motor), giving you enhanced range along with quiet performance.
Images and descriptions shown are for guidance purposes. In some instances photos are of non-UK specification vehicles and do not represent a specific model, grade or offer. Features shown standard and/or optional (at an extra charge) on selected grades. To find out more please contact your local dealer.
1 e-POWER will be available Spring 2022
2 Available only on 4WD