false
The two electrified powertrains in detail
Try it yourself - this is driving made exciting
Nissan e-POWER
Feel electrified driving pleasure with our Qashqai e-POWER powertrain. No need to recharge. This unique technology consists of a petrol engine and battery that provide power to an electric motor. This motor provides power to the wheels 100% of the time.
Enjoy responsive and refined power
Experience a simpler way to drive, with e-Pedal step
The drive for efficiency has never been more easy
MILD HYBRID - EFFICIENCY WITH ENTHUSIASM
A mild hybrid shows enhanced fuel efficiency compared to a traditional petrol engine, specifically in urban driving scenarios and emits less CO2 emissions whilst driving [3]. The mild hybrid system features a lithium battery that stores energy recovered during braking. The recovered energy supports the vehicles electrical systems allowing the start/stop system to activate in more situations to enhance fuel efficiency. Furthermore, aluminium has been used on the doors, bonnet & wings to reduce weight and improve performance.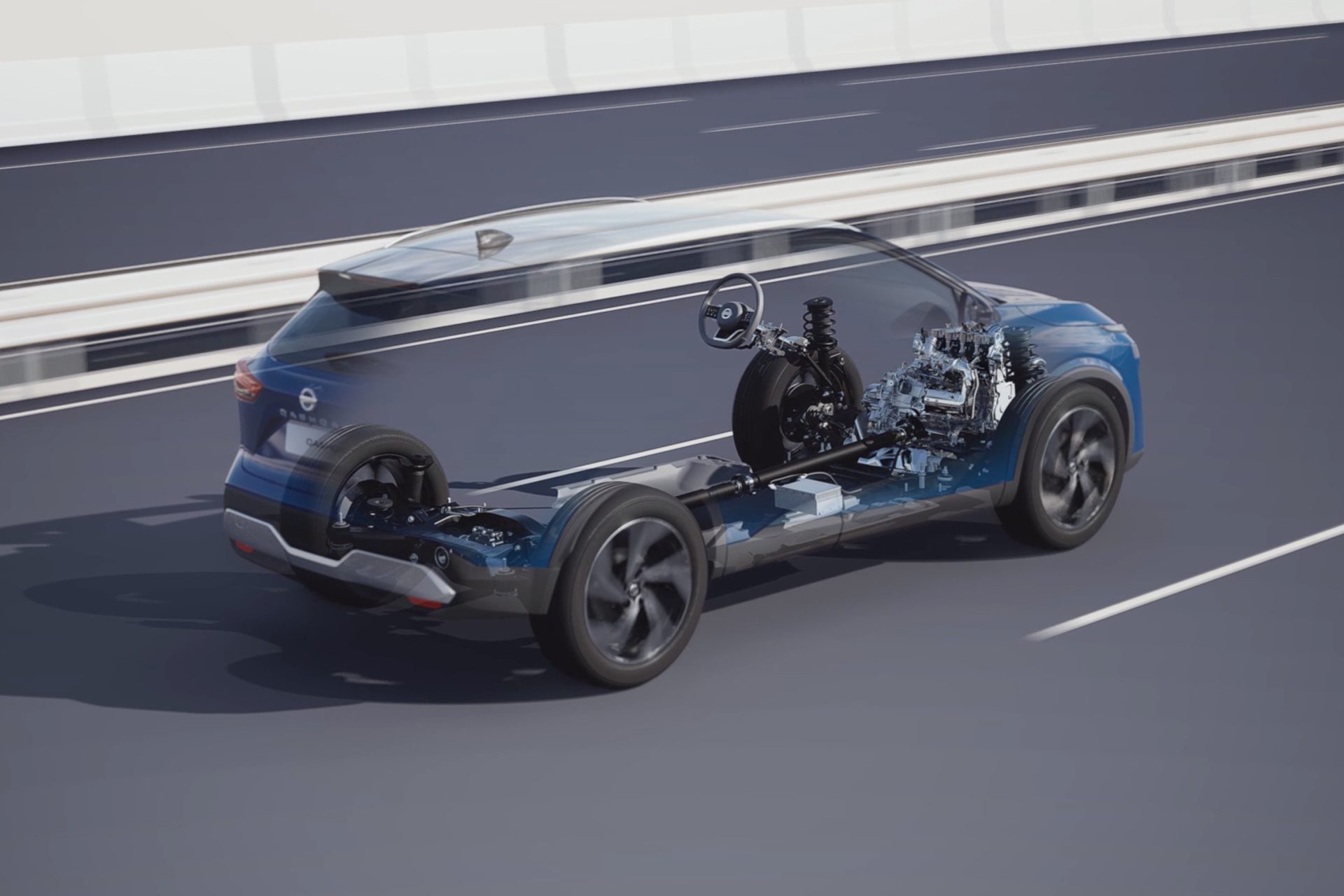 Take full command of your Qashqai with the slick shifting 6-speed manual transmission. If you prefer Automatic, Qashqai's next-generation Xtronic Continuous Variable Transmission gives you a smooth connected drive, while steering-wheel mounted paddle shifters let you enjoy greater control.

Intelligent 4WD with 5 Modes
Qashqai's intelligent 4WD seamlessly transfers power to give you more confidence and control. On challenging surfaces, power to the front and rear wheels improves grip, while on smooth road, the system send power to the front wheels for greater efficiency. With 5 drive modes to choose from, the intelligent 4WD can help you in out in most situations.
[1] In comparison to a traditional combustion engine Qashqai.
[2] You should not rely solely on driver convenience features. Some features may not work in all conditions and circumstances. Speed and other limitations apply. For terms and conditions relating to Nissan technologies, please contact your Nissan dealer or www.nissan.co.uk/techterms
[3] Comparison based on J11 DIG-T 140 N-Connecta manual transmission with CO2 emissions of 145g/km vs J12 DIG-T 140 N-Connecta manual transmission Mild Hybrid of 144g/km.
[4] Available only on 4WD and Xtronic grades.
Nissan Qashqai Mild-Hybrid Combined (l/100 km): 6.3-7; CO2 emissions combined (g/km): 141-158
Nissan Qashqai e-POWER Combined (l/100 km): 5.3-5.4; CO2 emissions combined (g/km): 117-119
Images and descriptions shown are for guidance purposes. In some instances photos are of non-UK specification vehicles and do not represent a specific model, grade or offer. The features shown may not be available or may not be available as standard or only as option.(at an extra charge).